Reese Electric was founded by Ben and Viola Reese in 1946, the year Tupperware was introduced and minimum wage was 40 cents an hour.  Ben was from Bandon and began his electrical career in 1936 by wiring the Tent City for survivors of the 1936 fire.  He opened his first shop in Coos Bay but the permanent, current location was established in 1948.
During the mid-1950's Reese became the local Frigidaire appliance dealer with a second store in Coos Bay across from the Egyptian Theatre.  Les McKay was the sales manager and also sports announcer for the local professional baseball team, the Lumberjacks.  Many fans would stop by to meet Les and shop for appliances, television sets and cable TV.  Over the next few years as TV sets and appliances lasted longer and needed fewer replacements, the business shifted more toward electrical contracting.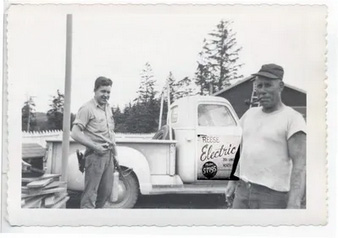 In 1965, son George started his apprenticeship program which he completed in 1969, and launched his career as a journeyman electrician.  That same year he married Sharen Sorensen, who joined the business in 1970.  Ben and Viola continued to operate the business until 1976 when they retired and sold the business to George and Sharen Reese.
During the early 1980's the economy slowed and there were only two electricians on staff.  But as the economy picked up, so did business and by the 50th anniversary in 1996, Reese Electric had 25 employees.
In 2004, Reese Electric was sold to Randy and Becky Rema.  Randy was a Coos County native and in 2005 he purchased Yockey Electric of Bandon and that site continues to serve today as Reese Electric.  By 2006 sales grew by a whopping 70% and growth continued steadily through 2007.  The company was able to purchase more service and utility vehicles and peaked with a total of 63 employees.
With 2008 came the real estate crash and another slowdown of the economy.  Accordingly, the company had to downsize and has leveled to 44 employees and holding.  In 2021 the company was purchased by, but the Reese Electric name lives on.
Reese Electric is an industry leader in electrical contracting and widely known for providing quality work, reliable service, and honest business practices on the Oregon Coast, from Newport to Brookings.